The Bathroom Remodeling Process Revealed
Before, During, After Samples of Bathroom Remodeling
To those who have never experienced it, the remodeling process can be frustrating. They may have a rough idea about the placement of a tub, shower or toilet, but the underlying workings of their bathroom or kitchen remain a mystery. That is until the demolition of the old bathroom reveals 50 year old leaky drains and unforeseen structural obstacles. Most contractors will usually demand more money at this point, leaving the home owner with a demolished room and little options.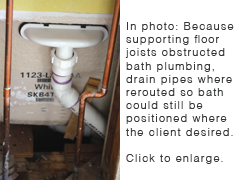 Michaud Enterprises employs expert craftsmen who can asses what surprises might be lurking in the walls and floor of your old bathroom and help you plan accordingly. However sometimes there is no way to know what to expect until you open the walls and see what's there. When unforeseen obstacles arise, we offer creative solutions to help you stay within your budget while still realizing your artistic vision, always focusing on quality, safety and esthetics.

If you desire a new kitchen or bath but are overwhelmed with the thousands of design choices available, Michaud Enterprises can help here too. We have years of design experience and a vast selection of the latest styles and options available for your remodeling project. From cabinetry and color selection to custom tile and fixture choices, we can guide you in the design of your project, always working within your budget to create the bathroom or kitchen of your dreams.
Typical steps when remodeling bathrooms and kitchens include:
Demolition
Framing & Any Structural Repairs
Plumbing Rough
HVAC Rough (if needed)
Electrical Rough
Drywall
Tile Prep and Installation
Vanity Installation
Counter Top Installation (depending on material)
Trim
Hardware ( towel bars, toilet paper holder etc.)
Shower Door